Keep Your Assets Protected With Full Backup Visibility in IT Glue
If you are an IT professional, you are most likely managing dozens of assets that need protection, and your large tool stack is only complicating things further. This can change with our new Datto Continuity integration, which can bring in your backup information where the rest of your documentation resides for maximum efficiency and asset protection. 
By consolidating all of your assets alongside device backup information in one place, you can easily ensure your clients' networks are never at risk. With the Datto Continuity integration, all backups will be synced to IT Glue so that you can easily review crucial backup information, determine the integrity of a network's protection status, and quickly identify out-of-compliance issues and rectify them as needed. 
Consolidate all your assets and backup information
IT Glue is trusted by over 13,000 IT professionals as their single source of truth for all information in the IT environments they manage. With the growing number of IT Glue integration, you can have a consolidated view of your IT environment by bringing in important information from your tech stack including PSA, RMM, network monitoring, Microsoft and now Datto Continuity. 
Backup is not a tool technicians access every day. By pulling the information into IT Glue, which is accessed daily, technicians will have more visibility. 
The Datto Continuity information enriches your existing IT Glue configurations by bringing you fields you are already familiar with in Datto.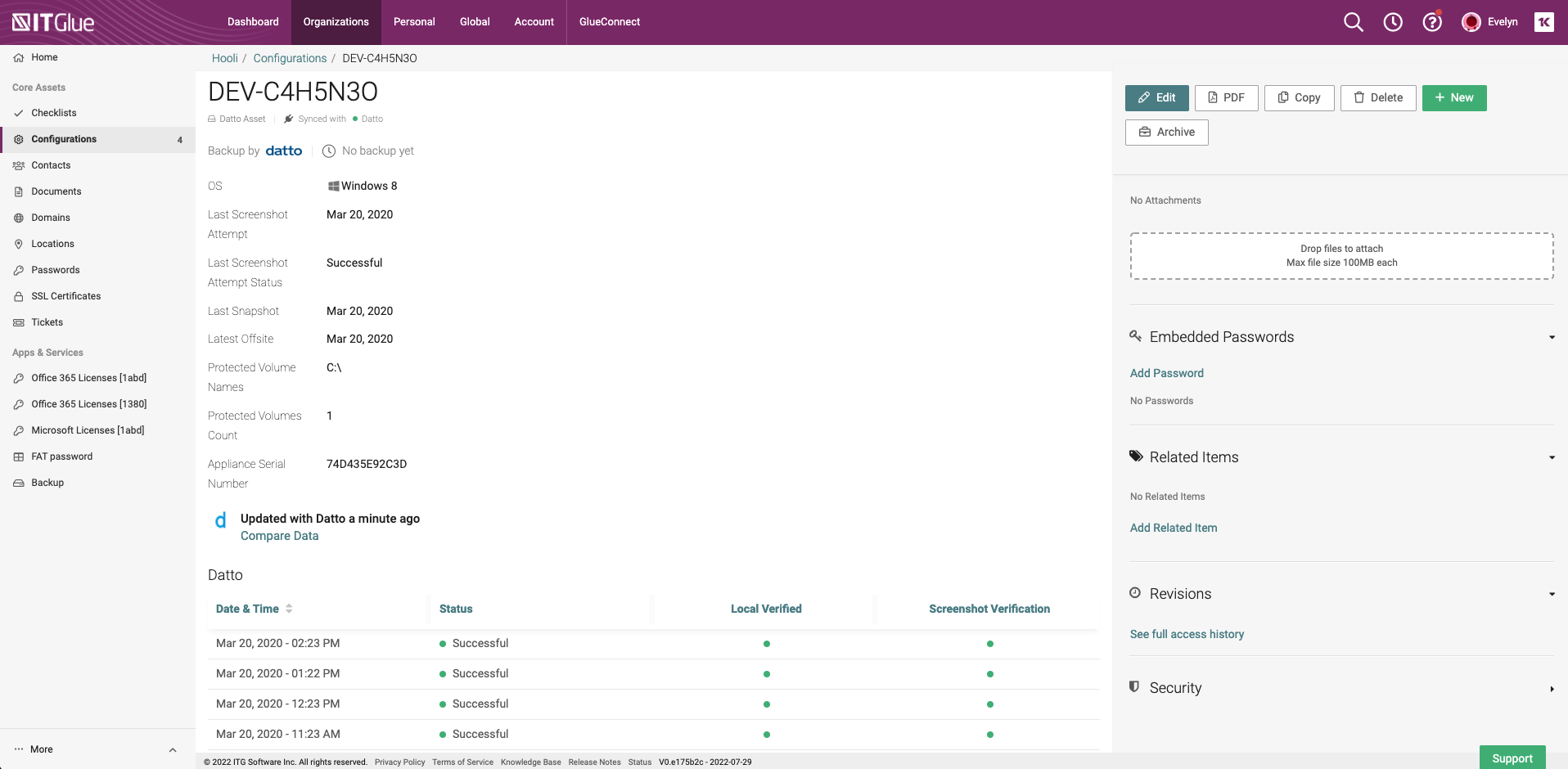 Complete backup details in one pane
With this integration, you can see all the details about your backups directly in IT Glue, including the Datto SIRIS appliance and the protected assets. 
Datto SIRIS appliance: 
Automatically document Datto SIRIS appliance as IT Glue Configuration that will include details such as used storage (local), available storage (local), cloud storage used and last check-in time. 
Protected assets: 
You will get a single view for last backup time and last backup status. Additionally, you can easily determine whether the backup was successful, the latest recovery point for the backup and whether to use onsite or Datto's cloud. This will help you quickly determine whether the configuration is protected. 
The following fields from Datto will be visible in IT Glue as Device Details as per the latest backup: protected volumes count, unprotected volumes count, protected names and unprotected names.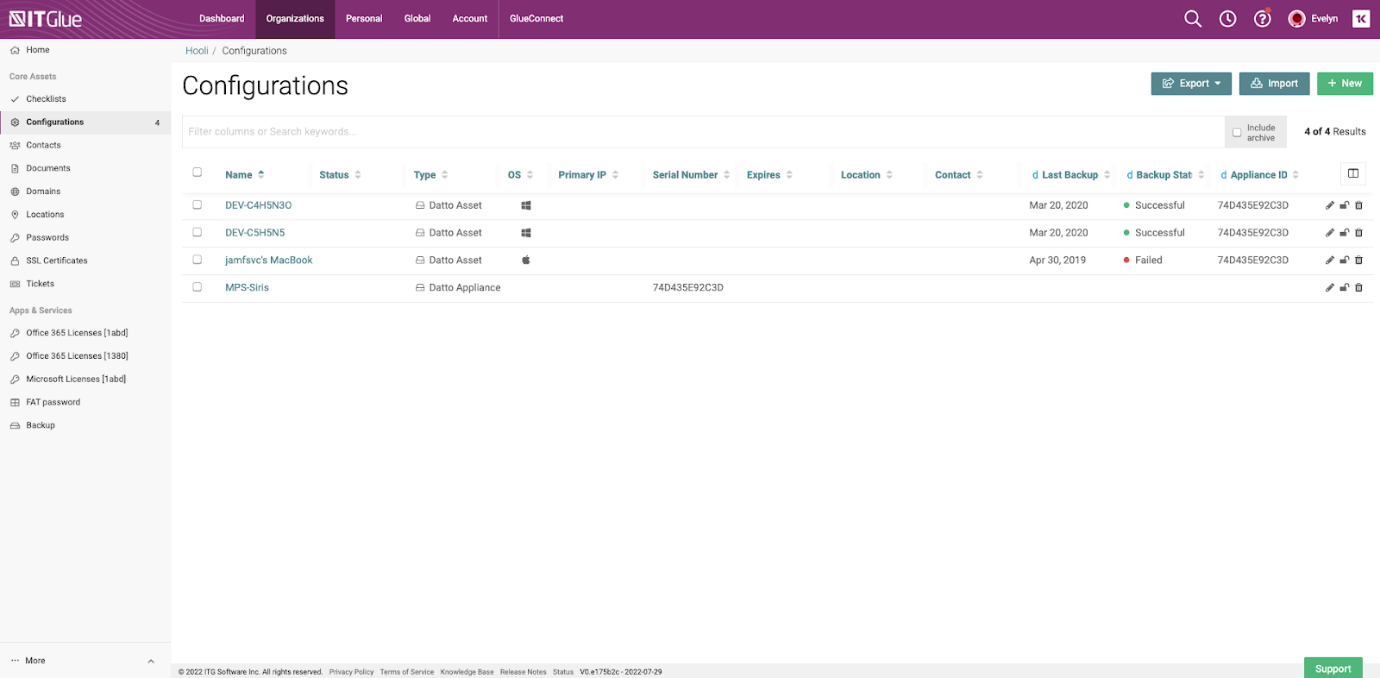 Validate backup status and ensure integrity
Your clients are trusting you to ensure the continuity of their businesses, and you must aim to deliver on that promise. At a quick glance, validate the integrity of the protected configuration with a screenshot and the time stamp to ensure the backup is bootable. 
You can see the integrity of your last backup by verifying when a successful screenshot was taken. You can provide a historical backup integrity summary

 

information

about the last 10 backups

. 

 

You can also quickly determine whether a client and their assets are protected with a single view for last backup time, last backup status, whether the backup was successful and the latest recovery point that you have offsite in Datto's cloud.

 

Datto

data

volume updates will show up in IT Glue as well. This enables you to check whether volumes are protected, whether anyone added a new volume and whether a backup was set up.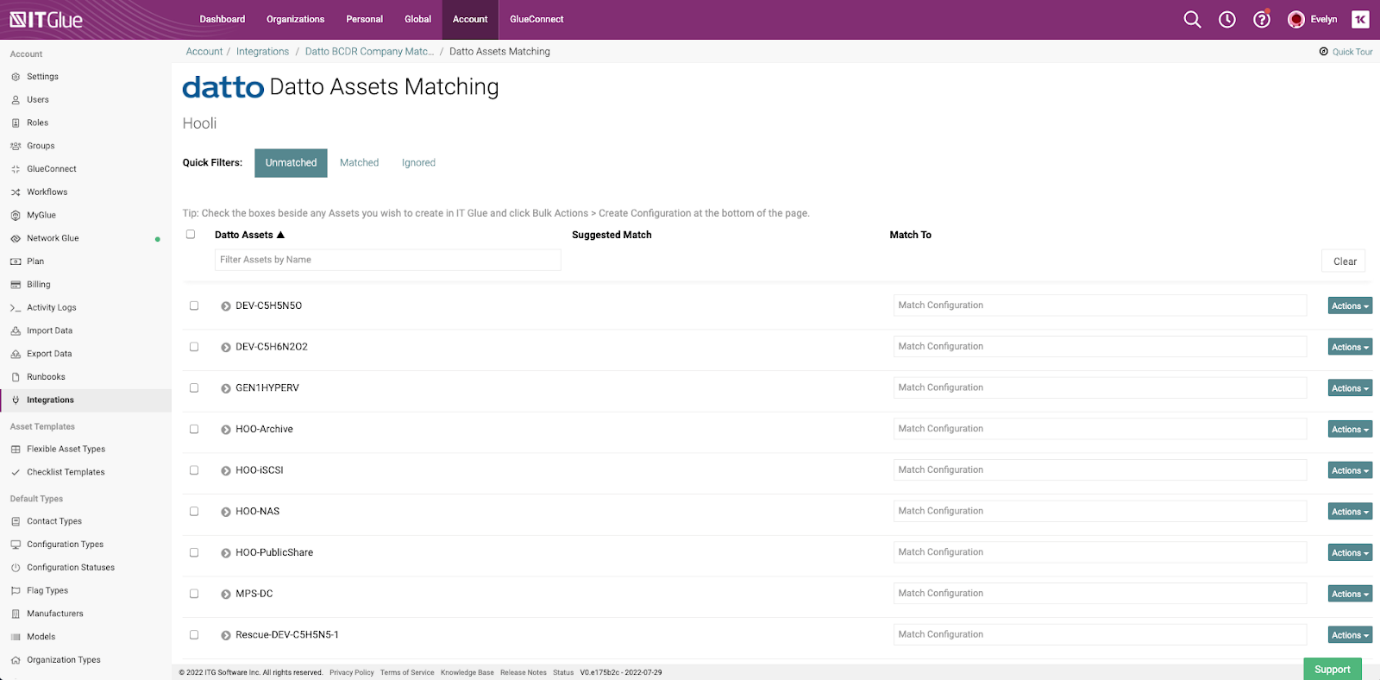 To learn more about the Datto Continuity integration, check out the Knowledge Base article.