Active Directory forms the basis of the client network that is in charge of centralized domain management. It manages directory-based, identity-related services that store information about objects on the network and makes it easily accessible to administrators and users. The data it stores includes users, their contact information, passwords and their permissions.
Whether you are an MSP or an internal IT team, Active Directory documentation for each environment you support must be considered a top priority activity. However, the question is, how do you document an Active Directory? That's exactly what we cover in this blog.
How to Get Started?
Most AD-related support tickets require your team to find a Domain Controller, log on remotely, add/move/change something or troubleshoot an issue. Now, to do this effectively, your team must have information on: 
Which server is a Domain Controller server

Administrative credentials

Proper permissions
IT Glue comes with pre-built templates for flexible assets like Active Directory. This makes it much easier for your team to document accurately. Moreover, since related documents are always linked together, your team will be able to link users to the associated security groups so that you can identify users' permissions at a glance. Once you set it up, it will only take your team four clicks and a password copy to start troubleshooting. The end result? You will bring down your Resolution Ticket Time.  
To get more out of this, be sure to link the document with every aspect of the infrastructure that requires AD authentication, such as applications, wireless devices, VPN, file servers, web servers and app servers. Then, consider linking it to all the procedural documentation that requires AD for completion, such as new user setup docs, decommissioning docs, application user account configuration and troubleshooting docs.   
Ideally, your Active Directory asset's Related Items pane should look something like this: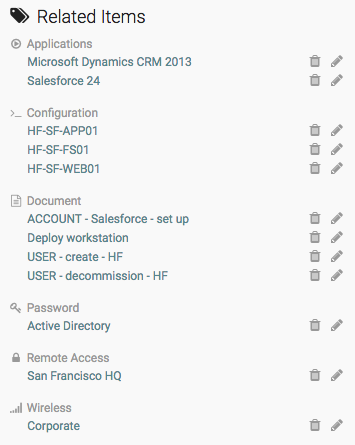 Now that we have covered the basics, let's focus on different ways to get more out of Active Directory documentation. 
More fields: Aim to feed more information into the Active Directory flexible asset. This time you can focus on operational units, replication schedules, federation to Azure, SSO SAML connections and the Address Book. 
Active directory users: Getting up-to-date information on Active Directory users and associated documentation, like AD status, Last Logon, Password Expires and Last Password reset fields, can save your client from potential data breaches related to terminated but not yet deactivated AD users. While some tools use third-party integrations, Network Glue has native AD integration that will store this data conveniently inside of IT Glue without creating duplicates for contacts.
Security Groups: What if your team could check AD user permissions without having to navigate to the client's AD server? You can do this by enabling Security Groups in Network Glue, our automatic network discovery, documentation and diagramming solution. Once you turn it on, your techs will get security groups documented as flexible assets within IT Glue and then automatically link those groups to the members (contacts in IT Glue), helping your team resolve tickets faster. Network Glue is the first in the industry that structures AD data in an accessible and easy-to-use way.
Active Directory Domain Role: Another way to get your team to troubleshoot faster is by making it easier for them to identify the role of a workstation or a server with an Active Directory infrastructure. With Network Glue, you can quickly pinpoint whether a workstation or server is the Primary Domain Controller or Backup Domain Controller visually on the network diagram. 
Group Policy: Documenting your GPO policies on firewall lockdown, access to printers and shared drives, or password complexity ensures that everyone has a document that they can fall back on.   
Auto-update AD password: Use our integration with QuickPass to auto-update AD passwords in IT Glue.  
Ultimately, if you are keen on reducing your resolution time or making your team and clients more self-reliant, Active Directory documentation is something you don't want to skip.  
Want to learn more about the benefits of Active Directory documentation and how IT Glue can help? Schedule a call with our team now.